One of the most iconic and dangerous sailboat races in the world will once again head towards Hatteras Island in 2024, with a 50th-anniversary competition that promises to be bigger and better than ever.
"For the 2024 race, we honor 'The spark that lit the flame,'" stated race organizers in a recent update. "Officially dubbed the 50th Anniversary Event, registration opened at 7 p.m. EST on Wednesday, April 19… Just two days in, the field of 15 entrants has been filled, with an alternate list already underway."
The Worrell Race technically began in 1974, when the race's namesake, Michael Worrell, was having a conversation and a few beers with sailing buddies, and the topic turned to the improbability of sailing a catamaran vessel up the East Coast.
That initial beer-fueled conversation turned into action, and two years later in 1976, the inaugural Worrell Brothers Coastwise Race was launched with a total of four teams.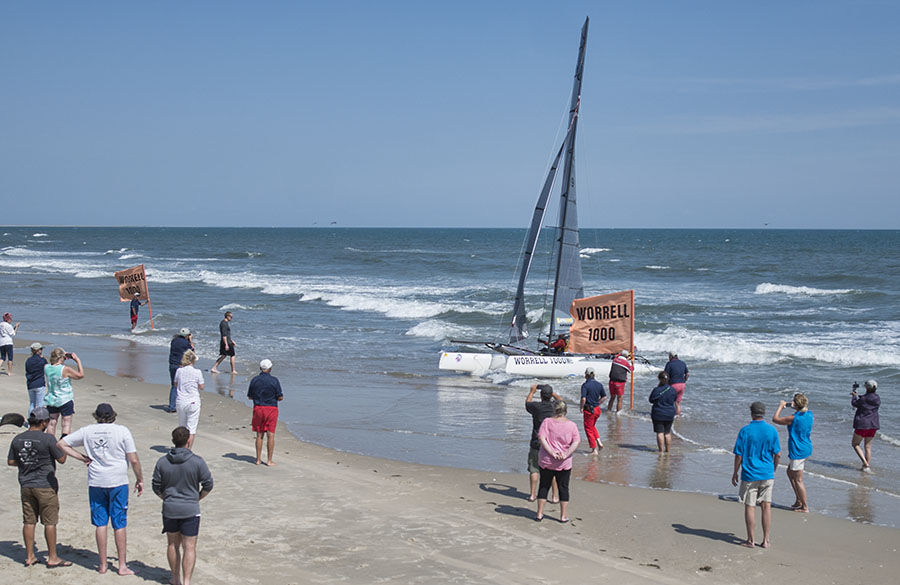 Growing in popularity, the race quickly became a fixture on the sailing scene in the years that followed, and it became world-renowned among sailors with an adventurous inclination.
The rules of the race are deceivingly simple. From southern Florida, competitors head north up the coastline, stopping at 13 checkpoint stops along the way, before finishing at the Virginia Beach oceanfront.
The race plays out in multiple stages, (from checkpoint to checkpoint), and the team with the shortest overall combined time wins.
Hatteras Island is at the last leg of the journey, and in 2022, (the last time the race was held), 13 competing teams rolled onto the beach close to ORV Ramp 49 in Frisco before they launched the following day, making a treacherous run north through the Diamond Shoals.
Returning champions Team Australia, (winners in 2019 and 2022), along with multiple teams and individual sailors from the 2022 event are now coming back for more, along with some new faces, and the upcoming 2024 race participants include 15 teams representing five different countries.
Specific event details, including checkpoint info, are expected to be announced soon. For more information on the Worrell 1000 Race, and to keep up with the action in the months leading up to the 2024 event, visit https://worrell1000race.com/.
The post 50th Anniversary of Worrell 1000 Race is on for 2024 appeared first on Island Free Press.
Add to favorites
Credit: Original content published here.